For after all, the best thing one can do when it is raining is let it rain. …and go for a trip!
Monsoon is a mixed bag of emotions. More so the Indian monsoon. It is a once in a lifetime experience with the rains enhancing the already vibrant country that India is. The hills and mountains get enveloped with lush flora, lakes and rivers swell with sparkling water that glistens like sequins, the spectacular waterfalls that flow with a new vigor – they all make you fall in love with Incredible India.
While rains look beautiful when you are indoors and warm, it's altogether a different story outside. Monsoon brings its share of woes such as water logging, muck and the worst, landslides. Who in their sane mind would like to travel in this season? I mean what's the point in spending money and going to some place when you can't step out because of the muck, right?
Wrong.
Travelling during this time of the year can be quite rewarding if you are willing to adjust a bit. For most places, monsoon is off-season, so train, bus and air tickets are a lot cheaper (when bought in advance). Almost all hotels offer an off season discount in order to occupy empty rooms.
Beyond the pocket friendly rates, another plus point of monsoon trips is you get to explore a beautiful unexplored side of that place in rainy season.
Still not convinced? Following is a list of the best budget places to visit in monsoon in India and why you must visit them this rainfall season.
Best Budget Monsoon Destinations In India
Lonavala and Khandala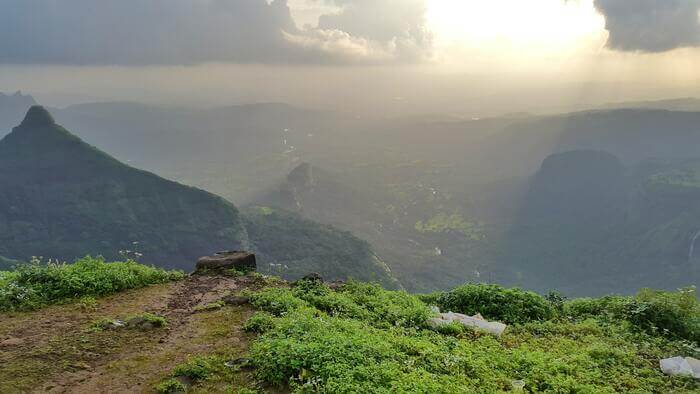 Staying in Mumbai and wondering where to go this monsoon? Well there's one tourist destination just around the corner – Lonavala!
About 2 hours' drive from Mumbai (much closer if you are in Navi Mumbai ;)), most Mumbai dwellers make it a point to visit the twin destinations of Khandala and Lonavala at least once during the rainy season, and they have good reason to do so.
The entire Sahyadri range and ghats come alive with lush greenery, graceful waterfalls and a serene climate with the advent of monsoon. On any visit to these places in the monsoon, you are most likely to be bathed in the mysterious mists from the valleys of the Western Ghats.
What makes them one of the best places to visit in India during rainy season? Well, where else can you enjoy sitting on a slope, devouring a lip smacking spicy roasted corn-on-the-cob while looking at the extensive view of a stream flowing by at the cliff top Tiger Point. Heavenly!
Want to try something else apart from simply enjoying the weather?
Lonavala offers exciting trekking opportunities of various difficulty levels. Or visit the ancient Karla caves built by the Buddhist monks which become quite tranquil and charming during the rainy season. So what are we waiting for? Put on your raincoats and let's go!
Mahabaleshwar and Panchgani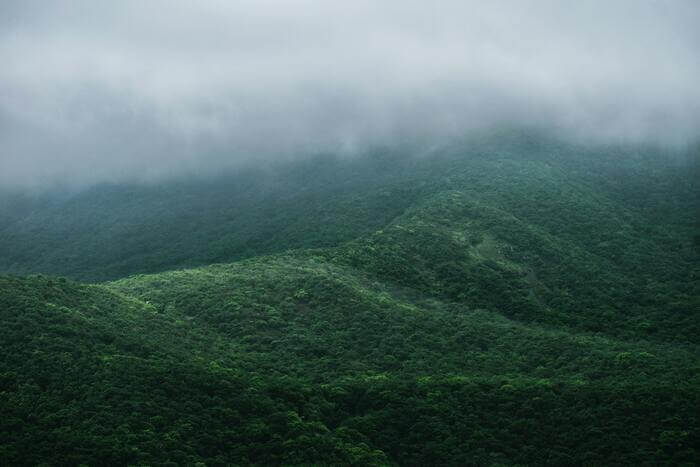 At a little distance from Pune, encompassed in the magnificence of the Sahyadri range, Panchgani and Mahabaleshwar come alive in monsoon. Though both of these hill stations see their peak tourist traffic in winters thanks to the strawberry harvest season, monsoon is no less gorgeous. The lush greenery, hazy streets, the pitter-patter of raindrops, misty valleys – they all make them best budget places to travel in monsoon in India.
Panchgani is the home of the Table Land which is Asia's second largest plateau. It provides breathtaking views of the hills for as far as the eyes can see. In the monsoon, you see small rivulets across the valley and tiny waterfalls on the hills. Imagine all this enveloped in a misty surrounding. Heavenly!
Mahabaleshwar is host to several viewpoints which provide breathtaking views of the hills, valleys, river and of course waterfalls! When in Mahabaleshwar during monsoon, don't forget to experience rowing up the misty Vienna and Tapola lakes in rains. You can rent a cabin to camp overnight at Tapola. Lastly don't forget to try the hot corn pakodas and masala chai from the stalls nearby, for monsoon is incomplete without them.
Also Read: Low Budget Travel Destinations In India You Must Visit In 2023!
Malshej Ghat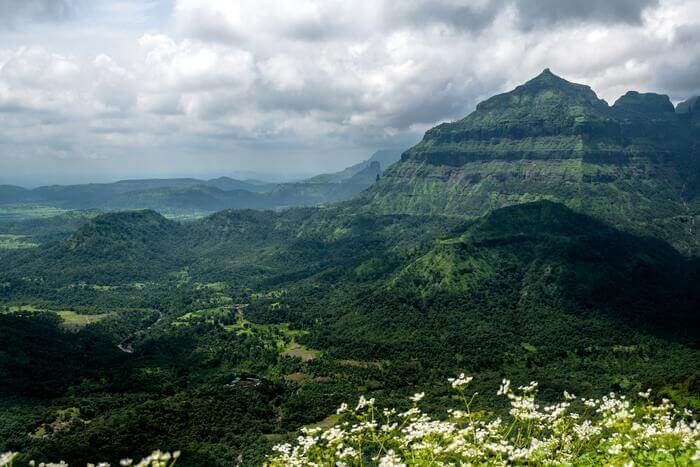 Another wonderful monsoon getaway in the western part of India is Malshej Ghat. Located near Mumbai, this spectacular hill station is for those who love getting drenched in the rains. Malshej Ghat is heaven on earth for adventure seekers and nature lovers alike.
During the monsoon season, Malshej Ghat paints a dreamy picture with countless waterfalls surrounded by a misty atmosphere. Thanks to the breathtaking scenery, Malshej is always abuzz with tourists, local trekkers, adventure lovers and hikers.
When you visit Malshej Ghat, you get to catch a glimpse and be mesmerized by exotic migratory flamingos. Not only that!
At about an hour's distance from Malshej Ghat is Naneghat which is famous for its unique reverse waterfalls. How cool is that? All these make Malshej Ghat one of the best budget offbeat monsoon destinations in India.
Goa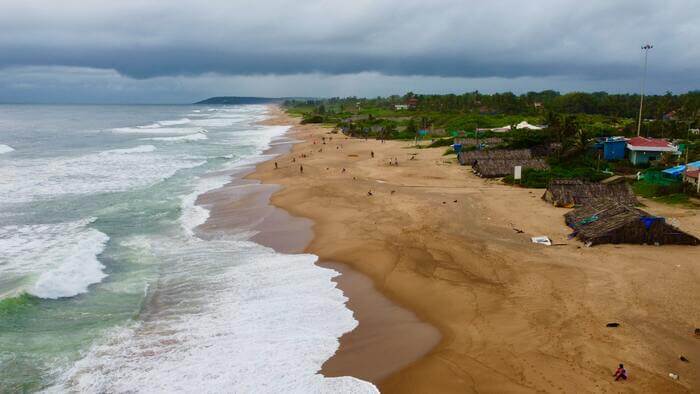 For most people, Goa is synonymous with parties and nightlife. But by the time monsoon is in full swing, most beach shacks close and the tourist thronged parties disappear.
But off late people are discovering this serene side of Goa which gets enhanced by the monsoon. Though the monsoon here is much milder than neighboring coastal areas, the sea shows its rough side so it's best you don't try swimming in the sea when you visit Goa in the monsoon.
But other than that it's a whole lot awesome. The often ignored Goan countryside gets coloured in all shades of green. The temperatures dip a bit and the already crisp air gets crisper.
Also, in the rainy season, Goa is far less crowded. So you can have the beach to yourself…well almost! And you enjoy the breezy barefoot walks on the beach without being jostled for space.
Plus being off-season, all accommodation and food options cost way lesser than usual. By visiting Goa in monsoon, you get to experience Goa as a Goan does and eat what the locals eat and it gets a lot more wonderful from there. Goa is truly one of the best budget places to visit in India during monsoon. When you go there in the rainy season, do check out the famed Dudhsagar Falls which gain a new vigor in the monsoon.
Also Read: Cheapest Countries To Visit From India Without Visa in 2023
Kerala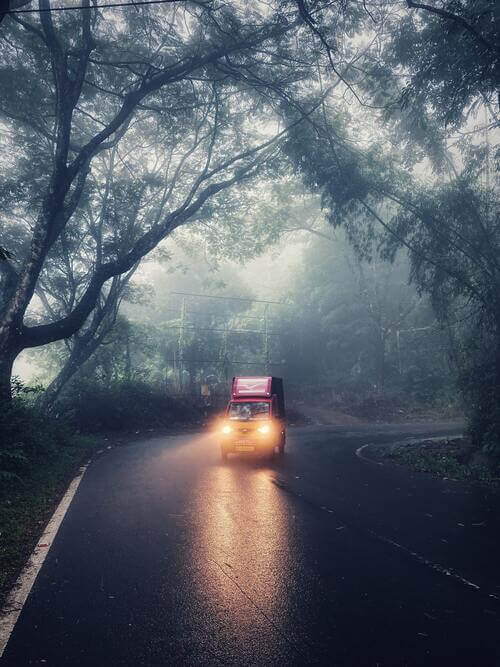 Kerala, God's Own Country comes alive in monsoon. Though a year round destination which remains beautiful throughout the year, Kerala is especially charming in the rainy season. Rains are usually torrential in Kerala, but it also enhances the beauty of the state. Amongst the rest, three noteworthy parts of the state stand out for their grandeur in the monsoon months and make Kerala one of the top 10 monsoon destinations in India.
Munnar – This quaint hill station of Kerala is famous for tea plantations and natural beauty. Come rainy season, the entire area transforms into a misty lavish green carpet with tiny streams of water running through the paths of the tea gardens. When you go to Munnar in the monsoon, you can catch a glimpse of the rare 'Neelakurinji' flowers. These vivid blue flowers bloom only once in 12 years.
Alleppey – During the monsoon, the famed backwaters of Kerala are at their best. It is during this time of the year when the backwater cruise feels the best thanks to the cool and moist weather. While you are here, go for a relaxing Ayurvedic message while listening to the song of falling raindrops in the backwaters.
Wayanad – Wayanad is best known for its lush green mountains and forests. And the monsoon makes the hill station picture perfect. Explore the mist covered hills and graceful waterfalls while you enjoy the delectable Kerala cuisine. While you are here in the rainy season, you can try trekking, jungle walks and participate in the monsoon carnival, 'Splash'.
Also Read: How To Travel In India With Low Budget
Cherapunji and Mawsynram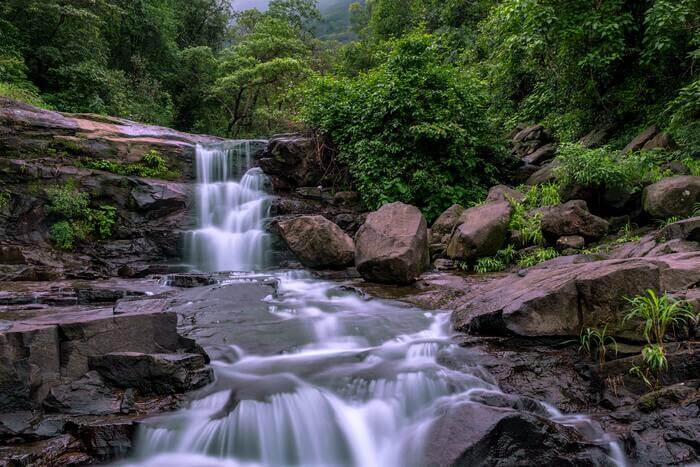 If you are someone who loves rains, Cherapunji and Mawsynram are the places for you.
Located in the North eastern state of Meghalaya, these two places interchangeably hold the record for being the wettest place on earth!
Once you are in either of these places, be ready to be mesmerized by the sheer natural beauty of these places. Blessed by the rain gods, here it often rains continuously for a week or more.
The North Eastern part of India is still largely unexplored, so you can enjoy the virgin beauty of this place. Catch a ringside view of the rustic hilly life, by watching the locals go about their routine carrying a Knup, which is essentially a rain-shield made out of jute and bamboo.
Stroke your adventurous side by crossing a stream using the innovative living root bridges. And of course tickle your taste buds by eating the hill special Khasi pork and rice.
Valley of Flowers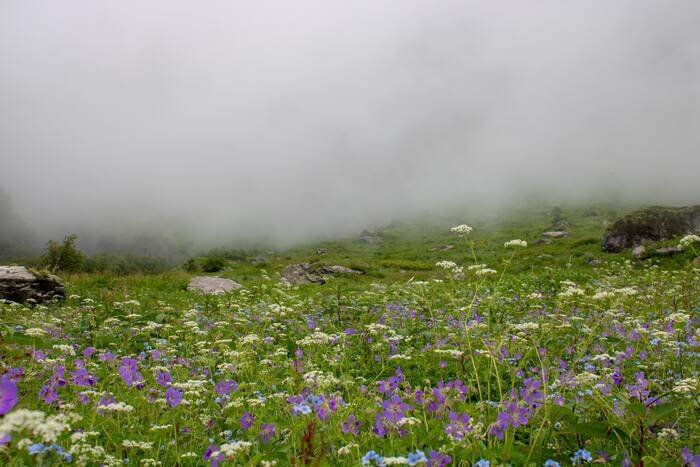 If you are a nature lover living in the north of India, Uttarakhand is the place to be esp. The Valley of Flowers. Open only for four months from June to October, this UNESCO World Heritage site, the Valley of Flowers is a national park located in the Chamoli district of Uttarakhand. Home to more than 400 different blossom sorts, the entire valley blooms with the arrival of monsoon.
Though a place with breathtaking views, it requires a long journey to reach there. The base point of Joshimath or Govindghat is about a day's drive from Haridwar followed by about a 4 hours trek. But let me tell you, it's totally worth it! It's not for nothing that the Valley of Flowers always stands out in the top 10 places to visit in monsoon in India.
Surrounded all around by snow-capped green mountains with a stunning vista of countless colours of flowers growing in their midst is a sight to behold. When you reach the Valley of Flowers, you also get a chance to catch a glimpse of some endangered species of flora and fauna. You can also cover the nearby Hemkund Sahib Gurudwara as part of the same tour.
But one word of caution from my side. Before you start your trip please ensure that you check the weather updates since the trek can get pretty dangerous due to heavy rains esp. in the month of August.
Also Read: Ultimate Budget Trips in India for 2023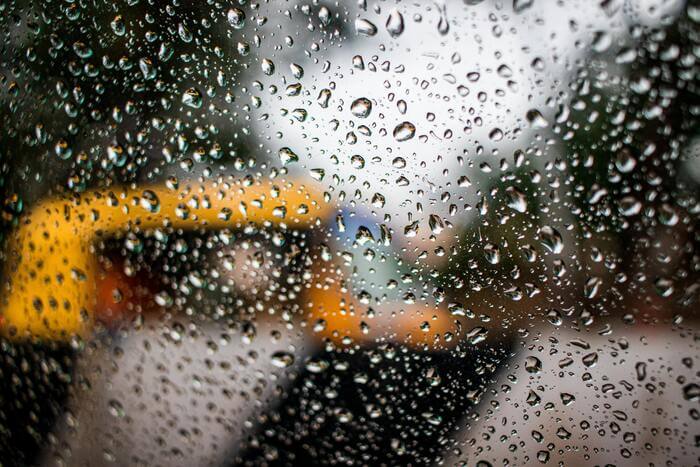 We conclude our article by saying "Anyone who says sunshine brings happiness has never danced in the rain". Sure going for a trip in summer is fun, but monsoon trips are something else!
And monsoon might just be the perfect time to go on your long awaited trip and get the best pocket friendly deals. So stop putting your plans on hold and explore the best monsoon destinations in India.
So what are you waiting for?
Pitter-Patter-Wander!
PS: Though these places are absolutely marvelous in monsoon, they can become quite dangerous because of the rains. We urge you to check the weather forecast before planning the trip, constantly monitor the weather in real time and be ready to tweak your plans a bit if need be.
FAQs – Top Monsoon Destinations in India
How can we travel in monsoon?
You can easily travel in monsoon if you follow the following tips:
* Before you start your trip ensure that you check the weather forecast and updates
* Monsoon is also the time for rain related ailments. So ensure that you are fully prepared by carrying sufficient medicines and bug repellents.
* Carry an extra pair of synthetic or waterproof clothes at all times. Pack more of these in your suitcase since these dry quickly, so won't hamper your travel plans.
* Needless to say, carry waterproof but a comfortable pair of rainy footwear.
* Cover your camera, mobile and other electronic devices with waterproof covers.
* Carry a small hair-dryer in your suitcase. This can come handy in case you get drenched.
* Waterborne diseases are rampant in the monsoon months because of muddy/dirty water. Ensure that you either carry bottled water or consume water from reliable sources such as your hotel.
* It is best to avoid street food in the rainy season.
* Last but not the least carry an umbrella or raincoat.
Which place is famous for rain in India?
Cherapunji and Mawsynram are the two places that are famous for holding the record for being the wettest place on Earth.
Which place in India doesnt rain in July?
During monsoon, the only place which doesn't rain is the south east coast of India. So, if you are planning to travel during monsoon in India but want to avoid getting drenched in rains, Tamil Nadu (TN) is a good choice. Tamil Nadu has some popular hill stations – Ooty, and Kodaikanal as well as beach locations such as Pondicherry and Marina beach in Chennai.