Once upon a time there lived little Asha in a quaint corner of India whose lifetime dream was to set foot on foreign shores one day but kept putting off her travel plans forever due to lack of funds. Sounds familiar?
Read on.
For people like me who are in love with travelling, travelling is not just a hobby. It is rather a means to escape the mundane life. And like most things in today's life, money decides the next course of action. More so the next vacation destination. Whether to go on a national or international vacation depends almost entirely on your budget.
When it comes to international travel, most of us (Indians) suffer from this mental block that it is very expensive. Well I have only one thing to say in this matter – Not always my friend!
What if I told you it is in fact possible to travel abroad with round about the same budget you would need for a destination within India ? All it requires is thorough research, advance planning and booking, and a traveler's soul ready to face challenges.
Another problem that plagues (look what I just did there! 🙂 ) the post COVID world is visa issues. With the waiting time stretching into weeks sometimes, getting a visa can be a hassle for many. Thankfully there are still a host of countries willing to open their doors for Indians, no questions asked. All you require is a valid Indian passport and you can travel without a visa.
Excited?
Here's a list of the best budget countries to visit from India without visa.
Cheapest Countries To Visit From India : Visa Free
Nepal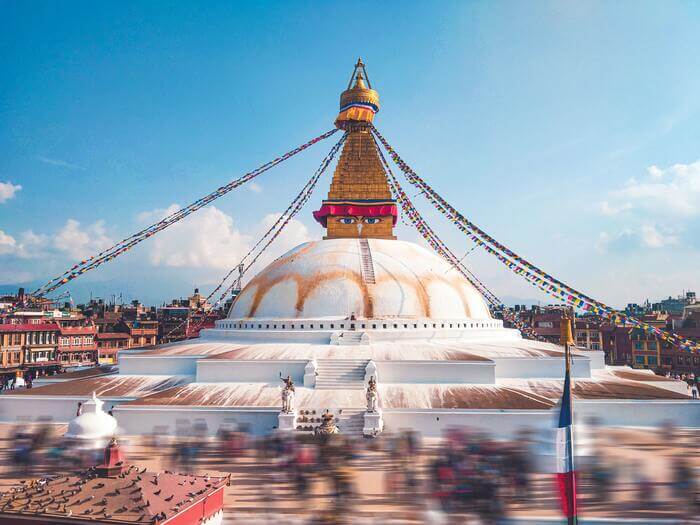 Nestled amidst the mighty Himalayas, Nepal is a land of diverse landscapes. As soon as you land in Nepal, be ready to be mesmerized by snow-capped mountains and streams, magical monasteries and monuments and say hi to yaks and… if you are lucky, yetis!
The serene and calm weather of Nepal replete with incredible variety of flora and fauna is sure to act as a breath of fresh air for any city dweller looking for a respite from the hustle bustle of the city.
Home to 10 of the 14 highest mountains in the world, Nepal is the perfect place for mountaineering and trekking as well as one of the best places in the world for white water rafting.
You can experience all this and more at the most pocket friendly rates, making Nepal one of the most affordable countries to visit from India.
Things to do: No visit to Nepal is complete without visiting the Kathmandu and Pokhara valley which is home to 7 UNESCO world heritage sites, plethora of monuments, temples, sculptures and beautiful artworks.
Go for tailored wildlife safaris, nature hikes, white water rafting and cultural excursions.
If you are an adventure junkie and have the requisite training, try the world's highest peak- Mt.Everest base camp trekking.
Places to visit : Pashupatinath, Dakshinkali temple, Lumbini, Boudhanath Stupa, Shechen Monastery, Hanuman Dhoka, Devi Fall, Shuklaphanta Wildlife Reserve , Parsa Wildlife Reserve, Bhaktapur, Siddha Gufa, Shivapuri Nagarjun National Park to name a few.
Visa: No visa is required for Indians. All you need is a valid voter id card or passport.
Costs:
Stay – INR 1000-2000 for a decent hostel room per day. Book your stay as advance as possible especially if you are travelling to Nepal during the festival or peak season to avoid inflated rates.
Food – INR 500 onwards per day, depends on the cuisine and the place of dining. Prefer local food at local outlets.
Transport – Nepal is well connected by bus and taxis. Average local transport costs about INR 600-700 per day.
Bhutan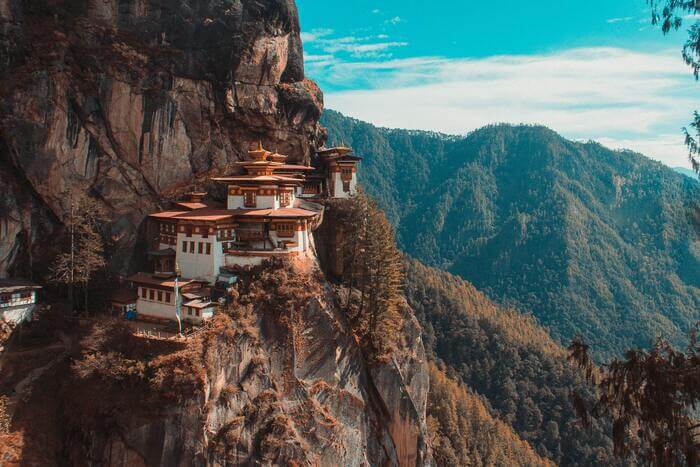 Birthplace of "Gross National Happiness", Bhutan is certainly one of the 'The Happiest countries in the world'. It is a land of high altitudes, remote monasteries, rich culture and spicy but yummy dishes. If you are looking for some tranquility and peace, Bhutan is the place for you. Not only that! Bhutan is one of the most affordable visa free countries to visit from India.
Nestled in the foothills of Himalayas, Bhutan is also called the Land of the Thunder Dragon, referring to the wild thunderstorms striking the valleys from the mighty Himalayas. The brilliant light from the thunders is believed to be fire from a dragon.
Bhutan is one of the most visited countries frequented by Indian travelers not only for soaking in the natural beauty of the place but also because of the budget friendly rates and no visa policy for Indians. No wonder, Bhutan is one of the best countries to travel from India without visa.
Things to do: Local Sightseeing, Cultural Tours, Adventure Sports & Activities, Wildlife Tours, Himalayan Tour, Treks, Religious Tours are some of the things you can do during your Bhutan trip. But one thing to keep in mind is high-altitude peaks are forbidden to climbers.
Places to visit : Paro, Thimpu, Haa Valley, Phuentsholing, Trashigang, Punakha Dzong, Trongsa, Rinpung Dzong, Dochula Pass, Wangdue to name a few.
Visa: Visa is not needed for Indian citizens. All you need is a valid voter id or passport.
Costs:
Stay – Depends on where you stay. Homestays cost about INR 1500 per night while decent hotels cost around INR 2000 per night.
Food – Again depends on where you dine. A typical meals costs about INR 100 to 400 person. High end place meals cost a bit more.
Transport – On an average, about INR 700-800 per day. Mostly depends on which part of the country you visit. It is more feasible to hire an individual or shared taxi since bus frequency is poor and follows no fixed timetable. Small 4 seater cab costs around INR 3000 per day.
Also Read: Top 10 Low Budget Travel Destinations In India You Must Visit In 2023!
Maldives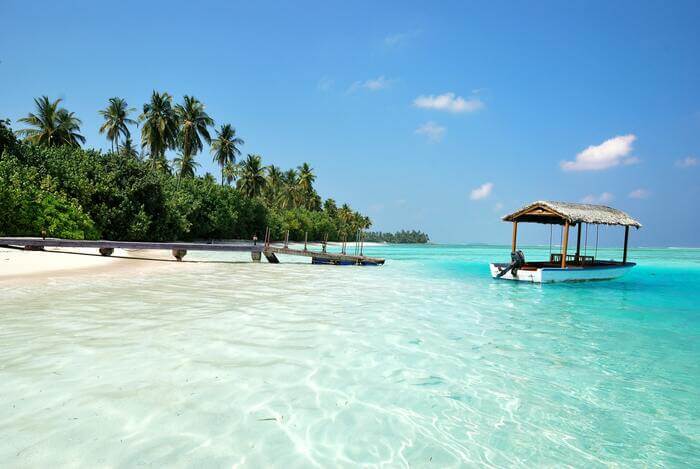 The beautiful Maldives is an archipelagic country in the Indian subcontinent. Famous for its breathtaking views, secluded white sandy beaches, and marine life, Maldives is truly the perfect travel destination.
The country is lined with around 1200 bright coral reefs packed coral islands which are as much a visual treat as it is environmentally important. Enjoy amazing underwater activities like no other place.
But one thing that comes to the minds of most travelers when they think of Maldives is expensive luxury resorts. Which is also the reason why many avoid going there on a trip. However, Maldives as a whole is one of the most affordable countries to visit from India.
Things to do: Snorkeling, Scuba diving, Male walking tour, Submarine tour are some of the things you can do while in Maldives.
Places to visit : Male, Velligandu Beach Island, Maafushi, Atoll Transfer, Alimatha Island, Addu city, Hukuruu Miskiiy, Hulhumale , Kaafu, Maldive Victory
Visa: Indian tourists can get 'Visa on arrival' at the airport in Maldives, which is free of cost and valid for 30 days. A further extension of visa validity of up to 60 days is provided, but at an additional cost.
Costs:
Stay – Accommodation at guesthouse costs about INR 1500 and above per night.
Since the year 2009, Maldives government started allowing the locals to open their own guesthouses, which changed the entire tourism scenario and made Maldives accessible and affordable for tourists looking for cheap foreign trips from India without visa.
Food – Local food at local outlets is very pocket friendly and you can get it for rates as low as INR 60-120.
Transport – Local transport options include ferries and domestic flights. Ferries to and fro to Male, which is the main island, is available from right outside the airport. You can get them at regular intervals, costing around INR 70 for a 20 minute ride.
Hong Kong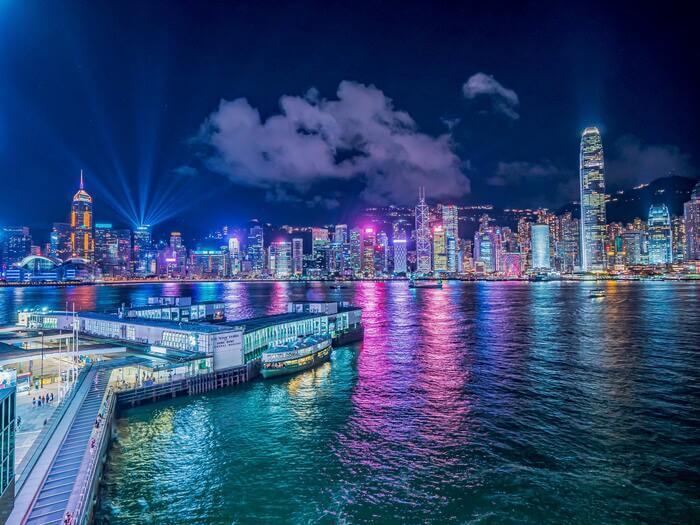 Hong Kong is best known by tourists as a shopper's paradise. But it has a lot to offer beyond shopping. Tourists can enjoy the views of the magnificent skyline, dazzling skyscrapers at night, beautiful hillsides, quiet islands, vibrant culture and night markets. Watch the city go at its pace from high altitude, celebrate festivals, sample local delicious food, visit movie sets and watch sports competitions in the city. Experience all this and more at an unimaginable low budget. Hong Kong has something for everyone! No wonder Hong Kong is one of the best countries to visit from India without visa.
Things to do: Hong Kong provides the best of options to soak in the best of flavors the place has to offer. Try Local Sightseeing, Religious Tours, Recreational Visits, Wildlife Tours, Adventure Sports and Local Shopping.
Places to visit : Victoria Harbour, Lantau Island, Macau, Kowloon, Stanley Market, Cheung Chau Island, Happy Valley, Sai Kung, Disney Land are some of the most exciting tourist spots in Hong Kong.
Visa: India passport holders can visit Hong Kong without a visa and stay there for 14 days. All you need is a Pre-Arrival registration which needs to be done before visiting the country.
Costs:
Stay – A stay in hotel will cost around INR 1400-1600 per night for 2 persons. Or else, one can use AirBnB for finding a good stay deal for as low as INR 2200 per night.
Food – Wholesome food options can be availed from local outlets for around INR 600-700 on an average per person per day.
Transport – Tourists can buy a tourist travel pass for INR 550 per day. The pass covers unlimited travel on the tram, metro and light rail service. Apart from these, the taxis are pocket friendly and the subways are well connected.
Cheapest Countries To Travel From India : Visa On Arrival
Vietnam :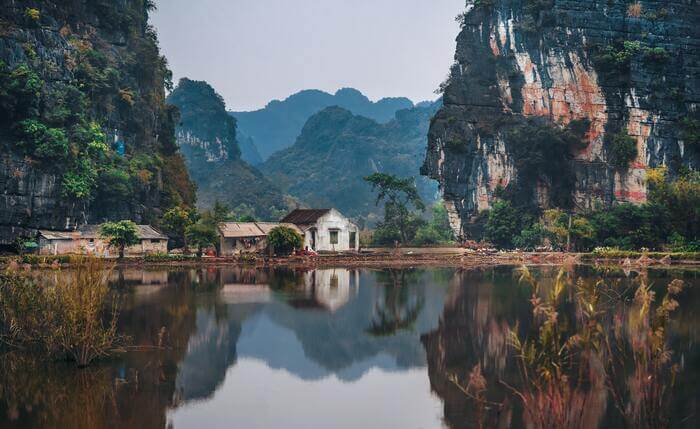 Located in the south east of Asia, Vietnam, is nothing short of paradise on earth. As soon as you land in Vietnam be sure to be mesmerized by the natural beauty, unique heritage and rich history of this beautiful country.
In Vietnam you will find some of the world's most extraordinary subterranean landscapes which adds to the mystery of this place. Most famous of the country's caves is the gigantic Hang Son Doong. The cave is so enormous that it could easily accommodate a 40-storey skyscraper or a plane could easily pass through it. Isn't it amazing?
Whether you're a landscape photographer, adventure seeker, foodie or history buff, Vietnam has something for everyone. It is an exciting country to travel to for a meaningful vacation which makes it one of the best cheap destinations from India.
Things to do: Sightseeing, Cave tours, Local Market Tours, Yacht or Boat Cruises, Wildlife Tours, Cultural Tour and Island Tours are some of the things you can do in Vietnam.
Places to visit : Ho Chi Minh City, Hanoi, Mekong Delta, Sapa, Nha Trang and Ha Long Bay, are some of the best places of interest in in Vietnam.
Visa:
Indian passport holders are issued a visa on arrival on arriving at one of Vietnam's participating international airports. All you need to do is fill an online application prior to your departure.
Costs:
Stay – Accommodation at backpacker's hostels cost less than INR 1000 per night
Food – A 3 course meal at a medium range restaurant costs about INR 800.
Transport – Transportation is quite cheap and taxi fare starts at INR 35 for 1Km
Also Read: A Practical Guide on How To Travel In India With Low Budget
Thailand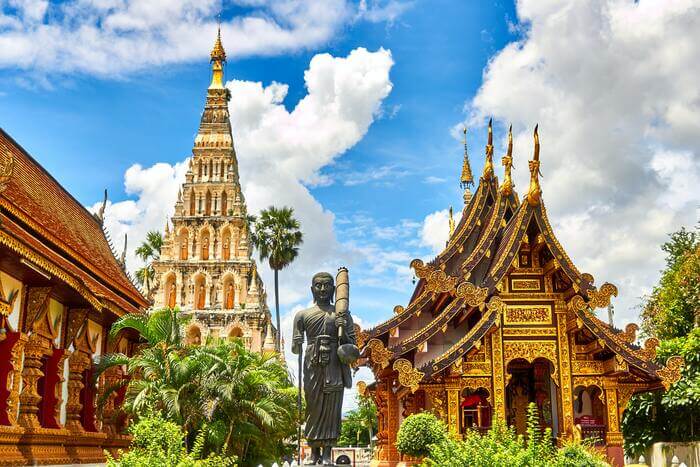 With its epic tropical beauty, enchanting ancient temples, delicious food and happening nightlife, Thailand is one charming destination that attracts tourists from world over.
More so Thailand is every traveler's ideal travel destination because of not just its cultural and natural beauty, but also for its convenient travel options and well-developed tourism facilities.
No wonder Thailand is one of the most preferred and affordable countries to visit from India. Just like its name, "Land of Smiles", Thailand never disappoints.
Things to do: Floating Market Tour, Elephant Tourism, Water Sports, Local Shopping, Treks, Night Parties are some of the major things you can do in Thailand.
Places to visit : Phuket, Krabi, Bangkok, Chiang Mai, Pattaya, Phi Phi islands and Koh Phangan are one of the major tourist places in Thailand that will leave you spellbound.
Visa: Thailand provides visa on arrival for Indian passport holders and you can stay in the country for 15 days using the visa.
Costs:
Stay – The cost for stay depends on the area you stay at and the facilities you need, but on an average stay costs INR 1200 and more.
Food – Prefer local and eat at local street joints where food will not cost more than INR 200 per dish.
Transport – Local transport costs vary across the country – In small cities transport costs would be around INR 40, while in Bangkok its around INR 120 and it costs about INR 200+ in the islands.
Countries to visit from India without visa – FAQs
How many countries Indian can visit without visa?
As of 9th July, 2020, there are a total 56 countries which allow Indians to visit their country without a visa. Out of the 56 countries, 16 provide visa free facility to Indian passport holders whereas 40 countries provide visa on arrival facility. Complete list of visa on arrival and visa free countries to visit from India is as follows:
 Countries providing Visa free Facility :
Barbados, Bhutan, Dominica, Grenada, Haiti, Hong Kong SAR, Maldives, Mauritius, Montserrat, Nepal, Niue Island, Saint Vincent & the Grenadines, Samoa, Senegal, Serbia, Trinidad & Tobago
Countries providing Visa on Arrival facility :
Angola, Bolivia, Cabo Verde, Cambodia, Cameroon Union Republic, Cook Islands, Djibouti, Ethiopia, Fiji, Guinea Bissau, Indonesia, Iran, Jamaica, Jordan, Kenya, Kiribati, Laos, Madagascar, Mauritania, Mongolia, Myanmar, Nigeria, Qatar, Republic of Marshall Islands, Reunion Island, Rwanda, Saint Kitts & Nevis, Saint Lucia, Seychelles, Somalia, Sri Lanka, Suriname, Tajikistan, Tanzania, Thailand, Tunisia, Tuvalu, Vanuatu, Vietnam, Zimbabwe
 (Source :  Ministry of External Affairs, Govt. of India)
Which is the cheapest country to travel from India without visa?

Nepal and Bhutan are one of the cheapest countries to travel from India without visa.
Is Dubai visa free for Indian?
Yes, Indian passport holders desiring to visit Dubai need a visa. But, Indians who already have a valid US,UK, Schengen etc visa do not need a separate visa for entering Dubai. All they need to do is fill a form on arriving at Dubai airport and they will be issued a visa on arrival for up to 14 days.