"Hey, what's so special about solo travel? How can you enjoy doing something when your friends and family aren't around you to celebrate? Especially travel!  And then, you won't even have anyone to talk to! Won't you feel scared?"
Sounds familiar?
Many a traveler soul has been sacrificed in the quest of answering these unending questions.
As far as feeling scared is concerned, from my experience of solo travelling I can say this – yes, you do feel scared (especially the first time!) and I still feel jittery every time I go for a solo trip. I guess it's in human nature to feel a bit unsure when you are doing something new especially when you don't have the warm blanket of security of your near and dear ones around you. You tend to get a bit apprehensive about how the experience will be or whether everything will be in your favor. 
So what do you do? Give up on your solo travelling dreams? Never! On the contrary, following are some solid reasons why you should go on a solo trip.
Why go for solo trips in India
No other quote can more accurately describe the 'emotions of a solo traveler' than these lines by the philosopher, Henry David Thoreau,
"The man who goes alone can start today, but he who travels with another must wait till that other is ready."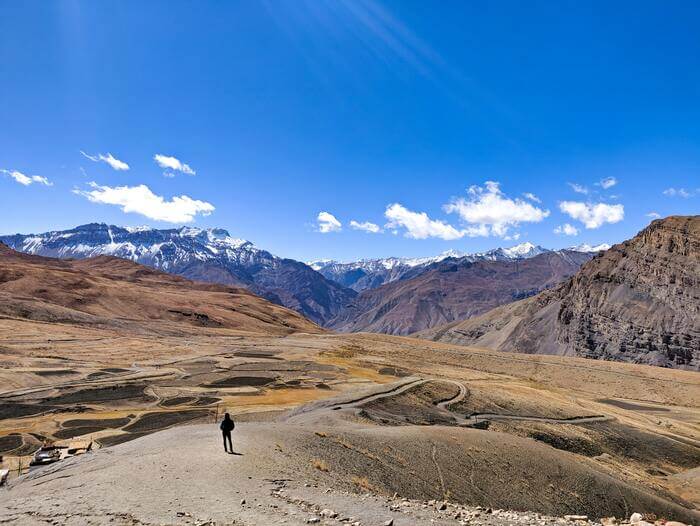 Amongst other things, solo travel is an excellent opportunity to explore yourself and discover what is source of the wind beneath your wings. It gives you the much needed chance to break free from your monotonous routine and get away from the hustle bustle and stress of daily life. Introspect on your dreams, thoughts, limitations and strengths while you travel.
To summarize, solo travel helps you,
Be Independent – When you travel solo, you learn to handle everything on your own in a new setting whilst dealing with complete strangers. This is a core life skill and makes you strong like no other.
Aids Cultural Learning – As is true with any type of travel, it gives you an opportunity to interact with the locals, learn about their lives, culture, food, language and challenges in their daily lives. But furthermore, solo travel lets you choose what you would like to explore.
Break Free from the Monotony – Guess what is the number one factor which makes us want to escape life? Our daily life! Traveling helps break the monotony and brings pleasure back to our lives. But it's not necessary when we are craving for a break, others would be available to accompany us. In those situations, its best take off on your own.
Now that I have you convinced (I hope so!) why solo traveling is good for you, let's explore some of the best budget solo travel destinations in India.
Why India, you ask?
Well, India can be one of the most pocket friendly places to travel in provided you know where to go. The country is literally a heaven for backpackers looking for an affordable deal.
So why break your bank by visiting an exotic location abroad when you can explore a plethora of equally fascinating (if not more!) solo travel destinations in India whilst saving money?
After all, A Penny Saved is Two Pennies Earned, right?
Also Read: The Secret List Of Best Budget Monsoon Destinations In India for 2023
Best Budget Solo Travel Destinations in India
India is a land of infinite travel destinations. From lively beach dwellings and hidden mountain settlements to exotic temple towns and rustic desert villages, India has something for everyone. Take your pick from the list of the best budget solo trips in India below and have the most affordable yet enjoyable vacation yet!
Kasol, Himachal Pradesh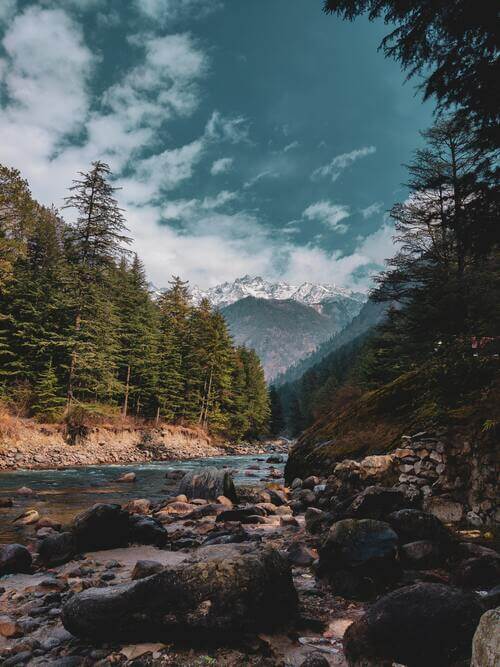 Considered one of the most popular budget solo travel destinations in India, Kasol, is a small hill station village located along the banks of river Parvati in Kullu district, Himachal Pradesh. The town is quite gifted in terms of natural beauty and you will find it surrounded by breathtaking mountain cliffs and pine trees.
Kasol is a paradise on earth for nature lovers and adventure seekers alike. You will find enough options for treks, white water rafting and other water sports that will leave you thrilled. If trekking is what you seek, you can visit Malana, Kheerganga and Tosh village which are famous for it.
Kasol has some lovely local eating joints and cafes where you can taste some delicious Indian, Chinese, Israeli cuisine along with the best ever bakery items.
Famous for its hippie culture, Kasol hosts several crazy psychedelic trance parties each year.
Known as the 'Amsterdam of India', and Mini Israel due to the huge influx of Israeli tourists, Kasol is frequented by international tourists and backpackers all-round the year. When you visit here, you are bound to meet some solo travelers like you and who knows, you might end up making some good friends for life!
How to reach: The nearest railway station to Kasol is Joginder Nagar railway station. Both HRTC and HPTDC buses run between Delhi – Kullu – Manali. Get down at Bhuntar /Manikaran. HRTC bus from Delhi to Kasol/Manikaran costs Rs 750 and from Delhi to Bhunter costs Rs 650. From Bhuntar to Kasol you can take a private bus costing around Rs 100.
Best time to visit: In summer, from March to June
Estimated food cost: Around Rs 250 – Rs 500 per day, depends on where and what you eat. Prefer eating at roadside dhabas for saving some extra bucks.
Estimated staying cost: Stay at hostel dorm for Rs 200 – Rs 300 per head per night. Costs about Rs 400 – Rs 500 per person per night at Tosh and Kheerganga.
Attractions: Parvati river, Kheer Ganga Peak, Tosh Village, Malana Village, Tirthan Valley, Manikaran Gurudwara
Also Read: Low Budget Travel Destinations In India You Must Visit In 2023!
Rishikesh, Uttarakhand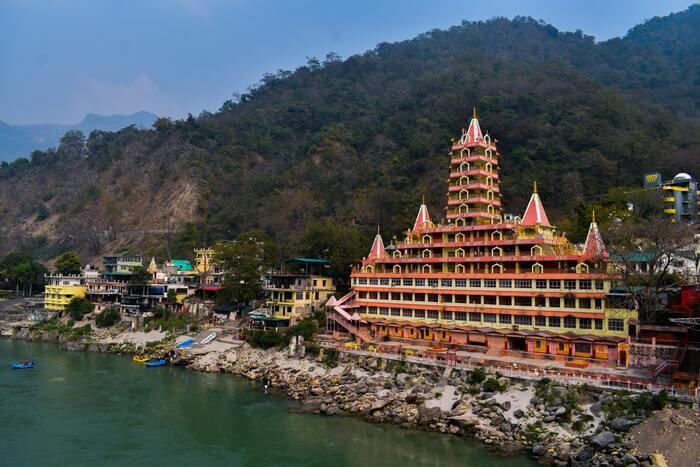 Located in the foothills of the Himalayas on the banks of the holy river Ganga, the beautiful city of Rishikesh is like no other. Situated in the lap of nature, you can smell the spiritual energy of Rishikesh right in its crisp air.
The city is synonymous with its grand temples, architectural marvels, rituals and yoga ashrams. Known as the 'Yoga Capital of the World', Rishikesh hosts the International Yoga Festival in the first week of March every year. Needless to say, the festival attracts thousands of yoga enthusiast from all over the world.
One iconic landmark of Rishikesh is the Beatles Ashram, where the Beatles visited in February 1968 attracted by Maharishi Mahesh Yogi's Transcendental Meditation. The Beatles stayed in the ashram for quite some time and composed a lot of songs, some of which are now a part of the "White Album".
Rishikesh is one of the best solo trip destinations in India for adventure activities such as the thrilling white-water-rafting, kayaking and body surfing. Apart from that, you can try the wonderful beach camps, and the exciting treks that promise to rejuvenate your mind, body and soul.
The prospect of trying out these thrilling activities by the shores of the mighty Ganga, has attracted both international and domestic backpackers and solo travelers alike over the years.
How to reach: Nearest railway station is Rishikesh or Haridwar which are connected to all major cities. By bus, you can take a UTC Roadways (Uttarakhand State Transport Bus) from Delhi to Rishikesh which costs about Rs 300. UTC Volvo Bus from Delhi to Rishikesh costs around Rs 800.
Best time to visit: Tourists and pilgrims visit Rishikesh round the year. But Rishikesh is the most pleasant in winter and spring. So to make the most of Rishikesh, it is best to visit in the months of October – March.
Estimated food cost: About Rs 200 – 300 per day. Since it is a pilgrim place, you can even get free food at some ashrams.
Estimated staying cost: Budget stay options in Rishikesh are widely available starting from INR 300 per night. You can even stay for free at some ashrams.
Attractions: Triveni Ghat, Neer Garh Waterfall, The Beatles Ashram, Lakshman Jhula Bridge, Ram Jhula, Parmarth Niketan Ashram, Ganga Aarti, Shivpuri, Neelkanth Mahadev Temple
Also Read: Cheapest Countries To Visit From India Without Visa in 2023
Spiti Valley, Himachal Pradesh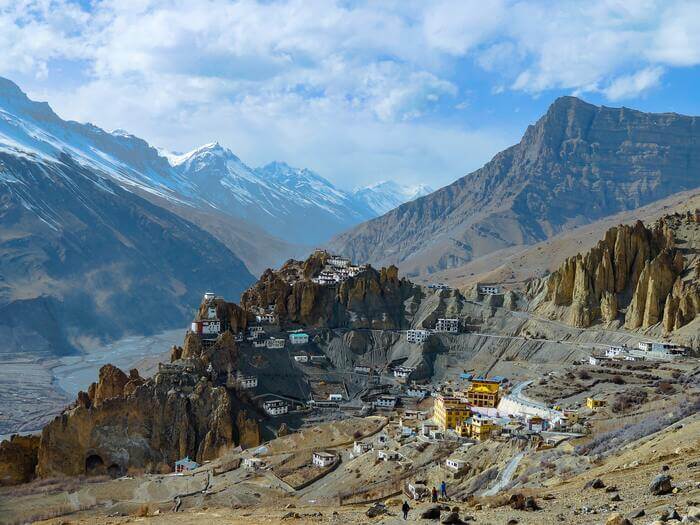 Welcome to the heavenly gateway which offers an escape from civilization into the lap of nature, Spiti Valley. It is a cold desert mountain valley with geographical diversity and beauty located high in the Himalayas in the state of Himachal Pradesh.
The word 'Spiti' means 'The middle ground' which literally describes the location of Spiti Valley – between Tibet and India.
Situated at an altitude of about 12,500 ft above sea level, Spiti Valley's pristine beauty and pure crisp environment make it one of the best places for solo trips in India.
The air you breathe is so pure and the only sound you hear is of nothingness of the valley and the chants in the air. If eternal peace is what you seek, it is here – in Spiti.
As soon as you come to Spiti, you will be totally awe-struck by the small postcard-perfect villages, mystical monasteries, beautiful dark pine forests and snow clad barren mountains. The barren mountains of Spiti change hues every second offering a breathtaking scenery which you will surely be mesmerized with every moment. And this is just the day.
As soon as the sun sets in this cold desert, the sky starts a live show of the Milky Way. Been born and brought in a city, I have never had a chance to see something like this before.
Spiti is called the "Little Tibet" and you will find a strong Buddhist cultural prominence here. Be it the Tibetan monasteries, the Buddhist prayer flags, prayer wheels, 'mani' stones or the monks clad in red robes!
How to reach: Commute from Delhi to Kinnaur to Kaza either by privately hired taxis or by finding travel partners and sharing the cost with them or you can ride rented bikes from Manali. Using public transport here is difficult since the frequency is bad.
Best time to visit: The summer months of March-June is good in terms of pleasant weather and lesser crowds. For a winter vacation, October to February is best.
Estimated food cost: About Rs 50 – 70 per person if you dine at a dhaba tent, Rs 150 – Rs 200 if eating at a hotel
Estimated staying cost: Stay options range from Rs 100 stay at some dhaba tent or shack to Rs 250-400 stay at the low-cost guest house or a homestay
Attractions : Dhadkan and Chandratal lake, Kunzum and Barchala Pass
Budget Solo Trips In India – Frequently Asked Questions
Is India good for solo travel?
Yes, India good for solo travel. India is one of the most pocket friendly places in the world to travel. India has good rail and road connectivity throughout the country. It's a heaven for backpackers looking for an affordable deal. Also, India is a safe country to travel in. People are warm and welcoming. There are a plethora of solo travel destinations in India that one can explore without breaking their banks.
How do you plan a solo trip on a budget?
If you are planning a solo budget trip in India, following are some tips you can follow :
* Research your destination well before starting
* Prefer traveling in off season
* Check out offbeat locations
* Stay in hostels and homestays
* Eat at local outlets
* Use public transportation
Most of the tips are relevant for planning any type of travel but more so solo trips.
Read our latest article on how to travel in India with low budget where we done a detailed analysis on how to save money while travelling.
Is it safe for a girl to travel alone in India?
Despite what is shown in media, India is quite safe for a woman to travel alone. Most people here are warm and welcoming. Slowly the trend of international and domestic female solo travelers is increasing globally and India hosts its fair share of female solo travelers each year. You just need to take the normal precautions just as you would take at home. Prefer to travel by train or use public transport when travelling between cities.